Here's an example of a class activity generated to support higher-order thinking skills and summative assessment of the digestive system. The grade level is intermediate elementary, and aligns with the BC science curriculum.
____________________________________________________
Hello, Grade 4s and 5s! We have spent the last term looking at the parts and functions of the digestive system, and now it's time to show off your knowledge! This will be done by using some of the computing skills we have developed, specifically building PowerPoint slides, and sharing a document through your office365 account.
Your mission: Use PowerPoint to create an equivalent of the human body. Find real machines that perform the same function as the main organs in the digestive system. These can be simple machines (like for last term's work), or complex ones. For example, instead of teeth, what about a shredder? Create a PowerPoint presentation that ties all the elements together.
The presentation must include a slide for each of the 7 main elements we have already discussed:
Teeth
Tongue
Stomach
Liver
Large Intestine
Small intestine
Colon
You can extend your learning by including other parts of the digestive system you have researched on your own. Don't worry about by-products (things that are produced, but are not organs).
Each organ should have a slide, so there will be at least 8 slides (a title page with your name, and the 7 organ slides). Include a picture both of the organ, and the machine you are comparing it to.
You can either animate your slides to move in their own, or have them advance on a click of the mouse or track pad. If you don't remember how to advance (or animate) your slides, look in the link section below.
This should be created in PowerPoint, on your office365 account, so that it can be shared with me, and with your classmates. Each person will create a presentation, and you can either type your thoughts onto each slide, or record your voice.  If you don't remember how to record, look in the link section below.
When you are finished, be sure to 'share' your presentation with Mr. M (teacher@sd51.bc.ca). If you've forgotten how, I have included a link below. The presentation must be submitted by my birthday, at 3:00 AM.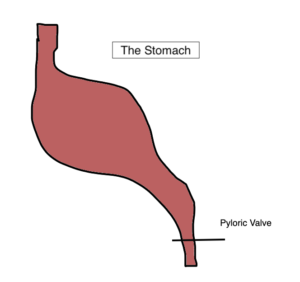 If you want to draw your digestive parts yourself, you can use https://kleki.com/ (but you can use any drawing program you want). It's a free online drawing program. I drew my stomach easily and then inserted it here. If you can't recall how to insert pictures into your PowerPoint, there is a link below. If you need help using kleki, there is a link for that as well.
How-To Links
How to share your PowerPoint presentation
Click here to remember how to record your voice.
Click here to re-learn how to animate your slides.
How to insert pictures that you drew or that you downloaded into Powerpoint